Blooming Trees to Plant in Ottawa this Spring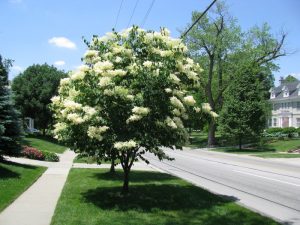 Spring is a great time in Ottawa as the weather gets warmer and you start setting up your patio again. Of course over the last few days we have had some up and down weather with the occasional cold spell and some random snowfall, however the it is getting warmer and the sun is out most days now.
You are likely thinking of some ideas to revamp your landscape and yard setup to create the perfect escape this summer. A great idea is to plant some blooming trees this Spring. These beautiful trees can create the perfect oasis for you this year and make your property stand out on the block. You may just want to add a splash of colour to your yard or create a more welcoming appearance for your commercial property in Ottawa. No matter what your reason, a blooming tree is a perfect addition to your property and we can help with any tree or stump removal of dead or dying trees to clear up some space for new trees if needed.
Here is a list of some of the most popular and best ornamental blooming trees to plant in Ottawa.
CRABAPPLE TREES
Crabapple trees grow very well in direct sunlight with moist or averagely moist soils which makes them hardy and very tolerant of the urban environment in Ottawa. They also handle pollution very well which makes them suitable for virtually all soils. Crabapples bloom early in June and they have incredible colours from pink and crimson to white creamy colours. Another added benefit is that they do in fact bear fruit which is safe for both human consumption and animals to eat. While you can plant a crabapple tree pretty much anywhere one thing to keep in mind is that if you plant the tree near a sidewalk then you will have to spend more time doing cleanup.
HAWTHORN TREES
If you are looking for some variety with your plants that will bloom at different times then this can be a great addition to your yard. They bloom between late spring and early summer. They are quite adaptable however they do prefer to be in the shade and should not be placed in direct sunlight. They will thrive in partial or full shade. These trees do not grow very tall so they are an ideal solution for smaller yards or underneath power lines. They have beautifulu pink, red and white flowers which will make a great addition to your yard or commercial property landscaping in Ottawa although they do have thorns that could pose a problem for areas where children or pets play.
PRINCESS KAY PLUM TREES
The Princess Kay Plum trees typically bloom early in the Spring. With black bark, you will notice a sharp contrast with their fragrant white flowers and they can be placed in direct sunlight so that they aren't drowning in stagnant water. With a limited height as mature plants it is safe to plant them under power lines as well. Princess Kay Plum trees are also very hardy and do well in pollution so they are also a top pick for Ottawa's urban environment. When the seasons change and Fall arrives, the leaves will turn bright yellow adding a nice touch of Autumn to your property.
JAPANESE TREE LILAC TREES
Lilac trees bloom early in summer and they have beautiful and fragrant white or off-white flowers. These trees are great because they do extremely well in direct, full sunlight with average and moist soil. One thing they don't handle well is dry ground although they are a low maintenance tree that does well even in pollution. You can shape them easily with very little pruning needed.
If you need advice about which tree to plant at your home or your commercial property in Ottawa, the tree experts at Crowe Tree Services can help. We know which species grow best in Ottawa and can help with any tree removal, pruning, cabling or stump removal needs. Contact us today to find out more about our Ottawa tree services!