Spring Tree Maintenance and Pruning Ottawa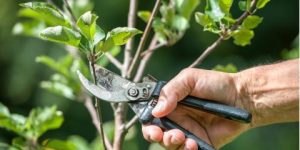 Spring is on it's way and this is a great time of year to start thinking about your trees, hedges and tree maintenance. This time of year is great to look at our trees to identify any care you may need to start applying to your young trees in the spring.
One of the first things you will want to take a look at is whether or not you need more mulch. Check around your young trees and determine the level of mulch that has survived through the winter months. It's best to dig around the existing mulch checking for any weeds or other issues before putting another 2-3 inches of mulch on top that would just mask the deeper problem. Once you have checked the surrounding mulch and determined that everything looks good and you need more mulch then you are good to go with puttting another 2-3 inches on top.
The next thing you will want to do is check the water level of your trees with a screw driver to see if the screw driver comes out wet or moist when put into the ground. Your trees have been pushing roots all winter and are likely thirsty so it's a great time to give them a proper drink. After nourishing your parched trees and replenishing the mulch it is time to start looking at pruning the trees to foster optimal growth and to trim the dead ends.
For the best spring tree maintenance, give us a call and one of our trained arborists in Ottawa will help you with your spring tree maintenance. Your trees will be healthier for it and your yard will look fantastic.