Winter Tree Care Tips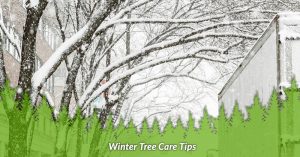 Ottawa residents are no strangers to freezing winters and cold weather.  When the snow comes the cold winter weather can make your trees feel stressed and this can lead to a number of costly issues down the road.
At Crowe Tree Removal, our experienced arborists in Ottawa understand the various challenges of the winters in Ottawa and we can help ensure your landscape is properly taken care of this coming winter. We take care of everything from tree pruning, hedge planting to tree removal and trimming in Ottawa. Also, we can handle both commercial and residential tree service in Ottawa.
Cold Stress and Trees
You may not know this but trees can become stressed from the cold weather in Ottawa. The stress tress experience can come in a variety of forms and this usually occurs in mature trees which experience a dramatic change in temperature between day and night heat changes when the temperatures drop. Usually you can see the stress a tree experiences on the outer bark and inner wood of the tree. This will show up in the form of cracks from the frost.
Winter Drought and Trees
Some trees in Ottawa, are susceptible to drying out during the cold winter months. In order for a tree to experience drought, it must lose more water than it can absorb from the frozen ground. Windy conditions can also worsen this condition. This is something to be aware of with the trees in your yard.
Broken Branches
Your trees can get broken branches from the weight of snow and hail and this can create a safety hazard for you and your family. Tree branches are very vulnerable to breakage in the winter, especially for deciduous trees, or trees that shed their leaves annually. These kinds of trees can become extra brittle in the winter, but with proper tree maintenance from Crowe Tree Removal in Ottawa, you can take a proactive approach against this winter hazard and keep your family safe.
Rodent Infestation
As winter approaches, rodents, such as rabbits and mice, will begin to forage for food. As food becomes scarce outside, these critters will have no problem chewing the bark on your trees, damaging them during the vulnerable winter months.
Structural Pruning
If you have younger trees on your property, you may want to hire a professional tree service to come and structurally prune your trees. This pruning method involves the removal of diseased branches, crossing branches, and more. While one diseased branch may not seem like a major issue right away, if you leave the branch on the tree, it will become larger and infect more branches over time.
Ottawa Tree Experts
If you live in the Ottawa area and you're in need of a professional tree service company, look no further than Crowe Tree Services. We strive to go above and beyond each of our client's expectations, and our arborists have the skills and experience to get the job done right. Interested in learning more about our tree services? Contact us today!