Why an arborist is the best bet to prune your trees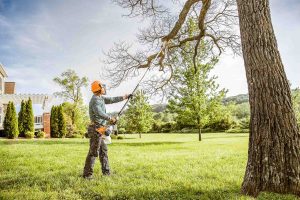 Many accidents happen when you try to do everything yourself. The roof that needs replacing, the electrical appliance that needs repairs, there are a few things you should always trust to an experienced professional and one of those is pruning your trees in Ottawa.
Trees provide excellent shade and aesthetic value to any homeowner. A bushy environment is prone to cause accidents. For an effective trimming and pruning of trees, you need experts in the business to maintain them.
We will show you why tree pruning would work better with an arborist.
DIY tree pruning can be highly dangerous
Masked with the proper experience and technique, anyone can prune a tree. But when you don't have it, it is best to leave it to the professionals. There is a considerable safety risk you take when you prune a tree as an amateur. Safe to say the odds are better with a professional at the helm.
1:120 is the risk number of tree workers' deaths
Six in 100 accidents for specialist is a clear indication of what we are talking about.
DIY can cause damage to your trees

Trees come up with diseases and dead leaves now and then. Knowing when to spot these diseases and dead leaves and the amount of time it takes to remove the leaves and branches affected is an art. Only a professional can cut and improve the airflow to that tree without causing any damage to your guest and family and the tree itself. A specialist gives trees the much-needed attention for them to grow and thrive.
An arborist has the right knowledge about trees
No person is more equipped with tools and knowledge like an arborist who aims to prune your trees. They are quite knowledgeable about trees, the diseases that fester on them, and the damages they incur. They also give you first-hand information about the latest treatments for the diseases your tree is currently facing – along with having the necessary tools to carry out the task.
Tree pruning service in Ottawa

If you are hoping to find the best tree pruning service in and around Ottawa, it would be wise to call on us. We employ the use of professionals for our residential and commercial tree pruning – each member of our team is savvy with pruning, trimming, cutting, removal, and stumping.