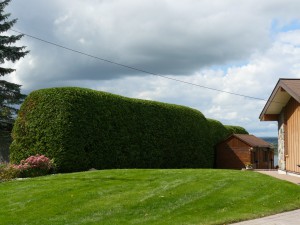 Our team trim some of the nicest hedges in Ottawa. We have all the proper equipment to trim, repair, or remove any size hedge.  Not only does trimming highlight your landscape, it promotes new growth for thicker healthier hedge.
---
Helpful hints when trimming a hedge
Trim the side so that the bottom receives light without being blocked by upper growth
Do not trim too much
Let any weaves or dents catch up to the rest of the hedge
Angle the transition from side to top to help prevent snow build up
---
When to Trim Cedars
The main thing when trimming hedges is to give them enough time to harden and prepare for winter.  In spring, you want to trim your hedges before the bright, green, new growth matures. In fall, you want to trim your cedars before it has produced buds for next years growth.  Trimming cedars after they have buds will force them to grow more rapidly.  This depletes its energy reserve and will therefore enter winter in a weaken state.
---
Cedar Planting
Hedges can be planted in early spring approx. 3-4 weeks after deciduous trees have opened their leaves or in the fall from August to the end of October.
---
All Your Cedar Needs
Hedge trimming – We trim using proper techniques and methods, resulting in a complete trim with stunning results
Hedge topping – We trim hedges down that are out of control.(recommended to only cut 1/3 of hedge height)
Hedge repair – Stake and support damaged hedges from snow damage.  Also burlap cedar for winter preparation
Hedge removal – We are able to cut any size hedge, chip all brush and grind 6-9 inches underground.
Hedge planting – We have skilled people to ensure your hedge is planted correctly.
We take the time to inspect each plant and make sure its planted using proper methods.